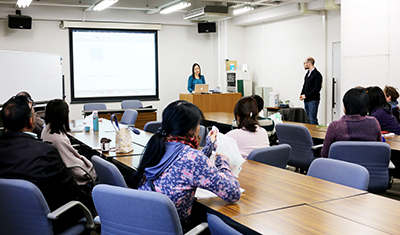 Lunch Seminar by Study Commons members in Leading Graduate School Promotion Center takes place every Tuesday from 12:30 to 13:00 at Faculty of Science Conference Room. In each seminar, a member provides the topics regarding his/her specialty. all seminars are available to anyone who is interested. The seminar will be conducted in English.
Let's join with your lunch!
Seminar's Objectives
The main goal of this seminar is to promote the understanding of the research activities done at the Centre, both to the benefit of students and other researchers from the University. You may also forward this email to anyone you think might be interested.
Since this is a lunch seminar, it is perfectly fine to bring a bento. The presentation will last 20 minutes, followed by discussion.
Title
Weekly Lunch Seminar
Instructor
Study Commons members in Leading Graduate School Promotion Center
Target
Audience
Anyone who is interested
Schedule
Date & Time
Location
Instructor & Subject
Tue.,Feb.10,
12:20-13:00
Fac. of Sci.
Conf. Room
(Sci. Build.3 207-209)
Speaker: Fadoua Ghourabi (Information Science)
Title:Solving and Proving Origami Geometric Constructions with Eos System
Tue.,Feb.17,
12:20-13:00
Fac. of Sci.
Conf. Room
(Sci. Build.3 207-209)
Speaker: Mayumi Kudo(Chemistry)
Title:Research on helical oligomers
Tue.,Feb.24,
12:20-13:00
Fac. of Sci.
Conf. Room
(Sci. Build.3 602)
Speaker: Nathanaël Aubert-Kato (Information Science)
Title:Evolving DNA computing systems that cheat at Rock–Paper–Scissor
Tue.,Mar.3,
12:20-13:00
Fac. of Sci.
Conf. Room
(Sci. Build.3 207-209)
Speaker: Sabine Gouraud(Biology)
Title:Central mechanisms underlying abnormal regulation of arterial pressure
Tue.,Mar.10,
12:20-13:00
Fac. of Sci.
Conf. Room
(Sci. Build.3 207-209)
Speaker: Jimmy Or (Engineering)
Title:Towards the Development of Flexible Spine Humanoid Robots
Tue.,Mar.17,
12:20-13:00
Fac. of Sci.
Conf. Room
(Sci. Build.3 207-209)
Speaker: Minako Kondo (Chemistry)
Title:Ultrafast dynamics of fluorescence probe molecules at the excited state using femtosecond time-resolved spectroscopy
Tue.,Mar.24,
12:20-13:00
Fac. of Sci.
Conf. Room
(Sci. Build.3 207-209)
Speaker: Julien Tripette (Engineering)
Title:Using new ICT to promote physical activity
Tue.,Mar.31,
12:20-13:00
Fac. of Sci.
Conf. Room
(Sci. Build.3 207-209)
Speaker: Xavier Dahan (Mathematics)
Title:Some aspects of Polynomial systems solving by elimination
Tue.,Apr.7,
12:20-13:00
Chemistry Lec. Room 1
(Sci. Build.1 415)
Speaker: Gary James Richards (Chemistry)
Title:BODIPY Derivatives Dithiacrown Ether Showing Combined Incorporating Substituents Environmental Polarity and Heavy Metal Cation Sensing Functionality
Tue.,Apr.14,
12:20-13:00
Fac. of Sci.
Conf. Room
(Sci. Build.3 207-209)
Speaker: Simon Devitt (Physics)
Title:Quantum information may answer why you never truly disappear when you fall into a black hole.
Tue.,Apr.21,
12:20-13:00
Fac. of Sci.
Conf. Room
(Sci. Build.3 207-209)
Speaker: Md. Khayrul Bashar (Computer Sciences)
Title:Efficient Vision Methods for Extracting Image Information
Tue.,Apr.28,
12:20-13:00
Fac. of Sci.
Conf. Room
(Sci. Build.3 207-209)
Speaker: Yuki Yasumura (Biology)
Title: Molecular mechanisms that underlie the adaptive evolution of land plants
陸上植物の適応進化を分子生物学で読み解く
Tue.,May.12,
12:20-13:00
Graduate School of Humanities & Sciences Building, room 604
Speaker: Atsuko Sato (Biology)
Title: Eco-Evo-Devo: a new synthesis of evolutionary biology
Tue.,May.19,
12:20-13:00
Fac. of Sci.
Conf. Room
(Sci. Build.3 207-209)
Speaker: Roxanna Ravenor Yamamoto (Social Science)
Title: Global rivalries: Transnistria – a case study