Voice of 2018 Graduates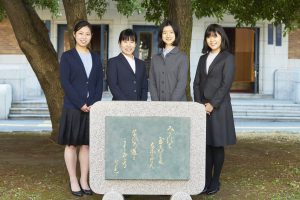 Four students completed our program in March, 2019. They have started their new careers with "MIGAKAZUBA" spirit aiming for creative innovation in society.


Kanako Enoyoshi (Division of Advanced Sciences, Mathematics)
Keep challenging
My five years of graduate school life has passed in the blink of an eye. It is because I have actively challenged various things.
First, I studied abroad at Oxford University where students with intellectual curiosities immersed themselves in their hobbies while working on academics deligently. It stimulated me greatly. After returning, I became able to think more flexibly.
The interdisciplinary research with students majoring in biology and physics was also great experience for me. I learned the fun of collaboration and found a sense of accomplishment when we obtained the results. Finally, we planned and managed the 2nd Leading Girls' Association. Thanks to warm cooperation, we were able to make the event a great success. I think that the experience of working with imagination and preparing so that participants can spend meaningful time can be of best use even after I go into society.
I will keep challenging without fear of failure and expand my possibilities.
Nanami Kawaguchi (Division of Advanced Sciences, Chemistry and Biochemistry)
The Value of Diversity
Through the Leading Program, I learned the importance of being exposed to diversity. For the team project, I had to make contact with specialists in another universities or companies. Initially, I found it difficult to have them understand our activity and to request cooperation. However, they kindly helped me rather than I expected and I learned the value of cooperation for achieving my goals.
Now I realized that interaction with people who have various specialties, experiences and ideas promote projects and broaden my perspectives.
From next April, I would like to further improve my skills at a global company and contribute to the society.
Youyou Cong (Division of Advanced Sciences, Computer Science)
The "Migakazuba" Spirit
"Migakazuba", which is the title of Ochanomizu University's school song, describes the importance of continuous polishing. I think what I gained from the Leading Program is the "Migakazuba" spirit. Through PBTS and global internships, I learned how to lead a team and communicate with people having different backgrounds. I believe that "Migakazuba" will continue to be my motto in my future career as a researcher.
Kaori Takagi (Division of Cooperative Major in Human Centered Engineering)
Challenges and findings
In the Leading Program, I have challenged many new things, and these five years were much shorter than I had expected. The team study conducted with students from other major courses was very stimulating for me. It made me know what I can contribute to, and my strong or weak points. Furthermore, in the internships, I could communicate with people having diverse backgrounds.
What impressed me was culture difference and the way of thinking. From this experience, I found that what I should do is not only to accept these differences, but also to learn from them.
What I gained from this program will be useful for my future career. I appreciate all professors, staff, and friends who supported me.
Voice of Study Commons Teachers
What are the main points of this program?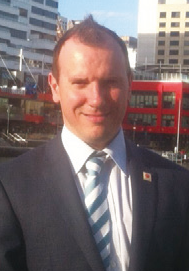 Gary Richards
Project Associate Professor (Chemistry)
Many of our students come from an educational background that is very much a teacher-centered experience, in which students play a largely passive role. So, to join our program, which aims to give a student-centered approach where the students actively decide on most of the important parts of their project including themes and topics, team membership, individual roles and experiment planning and execution, is a huge challenge. Another big challenge is to do all of this in English, which is not the first language of most of our students! I am happy to see that, although it can take some time for the students to find their feet in this new environment, we now have several very good teams working on very diverse areas of research, from water purification to anti-aging tea. The skills the students are learning in this program will be vital to enable them to compete at a national and international level in modern working environments.