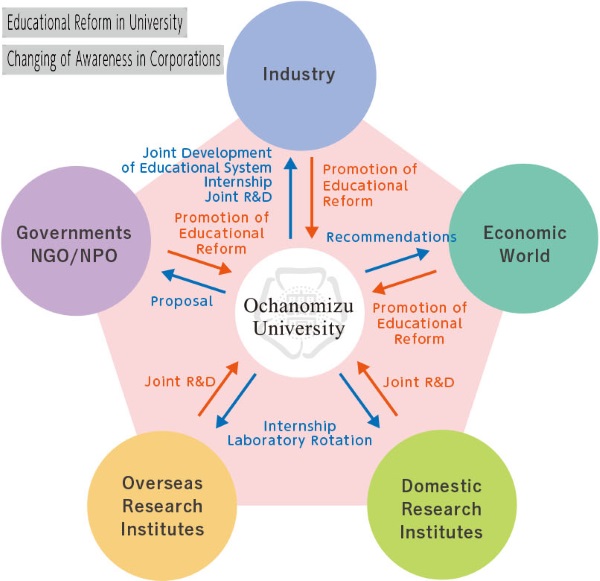 Innovation in science and technologies that have continuously become more advanced and complex requires new talents for solving problems and communicating. These talents require highly specialized knowledge, but also require a wide-ranging vision.
In other countries, many of the leaders creating innovation in business, as well as in academics, hold a PhD. In contrast, in Japan, most PhD holders restrict their activities to academic research. In Japan, there is a commonly held perception that a PhD holder's focus on their specialty may interfere, or make it more difficult for them to adapt to a business environment.
The goal of our program is to educate doctoral students to successfully conduct research, while developing skills to become the next generation of innovative leaders. These students will develop abilities required for business, working flexibly with diverse groups, and possessing advanced global communication skills. At the core of our curriculum, we have introduced Project Based Team Study (PBTS), modeled on applied research projects in industry. We also have a global internship program for students, where they work at companies, research institutes, and universities overseas, so that they gain a truly international experience in business and research.
Our program is conducted beyond the usual boundaries of the university, and includes diverse human resources from domestic and overseas companies and research institutions. We are fostering doctoral candidates who can actively and directly contribute to creating innovation in a wide range of industries, academic disciplines, and in government. At the same time, we are also promoting the career development of PhD holders, and fostering their contributions to society.

Outside Program Members
Project Based Team Study (PBTS)
In Project Based Team Study, projects are created and proposed by the students, themselves. The students form their own teams, composed of members studying a wide variety of fields of research in their major courses (forming cross-functional teams). Students are responsible for the execution of these projects, including their ongoing planning and management. Through PBTS activities, students gain practical experience in creating and managing projects on their own, which are relevant to important problems and issues facing society. In PBTS, all communication is conducted in English.
A Study Commons, composed of foreign faculty members, has been established as a base of activity for PBTS, providing guidance for students in their research projects. There are also faculty mentors from within the university in various specialized fields, and experts from outside the university working in industry, research institutes, and other universities. Project teams carry out their research in a competitive atmosphere. Their research activities are not limited to within the university, but have expanded to include joint research and development with companies, research institutes, and with other universities.
Currently, we have 9 project teams in PBTS that are conducting diverse research projects, with some teams collaborating with students from other universities.

Current PBTS activities (as of January 20, 2020)
Anti-Aging Team (1st class)
The influence of tea leaves particle size on catechin extraction and green tea sensory acceptance


In order to lengthen the healthy life span and spread Japanese traditional habit of drinking green tea in the world, our team's goal is to develop a new tea product with high anti-aging property (antioxidants).
Green Filtering Team (2nd class)
Removing Air Pollutants with Green Biomimetic Filter


In order to propose countermeasures against air pollution such as PM2.5, we aim to develop an environmentally friendly filter that mimics the surface structure of leaves.
Science Education Team (3rd class)
The effect of graphically presenting female role model interviews on the attitudes of female high school students toward choosing science courses


In order to solve the problem that there are fewer women from STEM fields in Japan than overseas, we are aiming to develop a collection of role model articles that target high school girls and specialize in career choices in high school.
CO2 Reduction Team (3rd class)
A recommendation system for promoting the eco-activity toward a sound-material cycle society


Among the efforts of society to improve environmental problems, we are focusing on reducing individual CO2 emissions and aiming to develop a recommendation system to promote activities.
Water Recycling Team (4th class)
Recycling household greywater for irrigation purpose


We aim to make effective use of greywater resources for irrigation by reusing household waste water from washing machine. Specific objectives are: (1) Construction of a small-scale, user-friendly, simple and low-cost recycling system. (2) Evaluation of the impact of purified water on plants before use for irrigation.
Traffic Jam Team (4th class)
Simulation of Road Traffic: towards the investigation of the impact of autonomous cars on traffic jam


We are aiming to develop a simulation model to clarify the method of resolving traffic jams that occur in traffic conditions where manual and autonomous vehicles are mixed.
Dish Washing Team (5th class)
Using rice shell to efficiently remove oil from dishes


Domestic wastewater is one of major causes of water pollution. In order to cope with the global water shortage, we are developing a method for cleaning dishes with less water and without polluting water. In particular, we are focusing on the ability of powder to adsorb oil and proposing dishwashing using powder.
Mental Health Team (5th class)
Do Menstruations Affect Women Mental Health? 
-study of the use of emoji in menstruation related tweets
The mental and physical problems that are unique to women have arisen with their social advancement. Therefore, we analyze the stress caused by women's menstruation using SNS, considering social factors. Ultimately, we are aiming for applications such as stress prediction.
Pollen Team (6th class)
Pollen capture and decompose with fabrics
PBTS activities completed up to April 2019
Education Team (1st class)
We designed a course on programming for high school students, aiming at improving their understanding of mathematical induction, which is a difficult topic in high school math. In our course, the students make a simple game using a technique similar to mathematical induction.
Synchronization Team (1st class)
In order to unveil the mechanism of interaction between cultured skin cells and collagen, we investigate the collective patterns that cultured skin fibroblasts form on collagen-coated dishes.
Water Treatment Team (1st class)
Our study is aimed at improving an existing wastewater treatment system using enzymes for wastewater from food factories to remove oil that is a big environmental burden.
Global Internship
Our long-term internship program is designed to help students widen their vision and recognize how to effectively address social needs through practical experience and research. Students participate in multiple internships with the cooperation of over 50 organizations, including domestic and international companies, research institutes, and universities.
Our internship program includes Global Internship I (3 months to 6 months), taken during the student's master's program, and Global Internship Ⅱ (6 months to 12 months), taken during their doctoral program. Students find their internship opportunities themselves, with the assistance of program staff, considering the promotion of their PBTS research and the research conducted in their major program.

Internship Destinations (up to January 20, 2020)
Domestic – 26 places (12 companies, 7 institutes, 5 universities, 1 government office, 1 other)
Overseas – 30 places (1 company, 7 institutes, 20 universities, 2 others)
Companies
FUJITSU LIMITED, Tokyo Engineering Consultants Co. Ltd., Toray Industries Inc., Weathernews Inc., Nippon Steel & Sumitomo Metal Corporation, Ricoh Company Ltd., Rhelixa Inc., NISSAN MOTOR CO. LTD.,
FANCL CORPORATION, J-CHEMICAL, Inc., SYSMEX CORPORATION, AXA GENERAL INSURANCE COMPANY LIMITED, LANXESS GmbH (Germany)
Institutes
National Institute of Health and Nutrition, RIKEN, National Institute of Advanced Industrial Science and Technology, National Institutes of Biomedical Innovation, Health and Nutrition, High Energy Accelerator Research Organization(KEK), National Institute for Environmental Studies, National Institute of Genetics, Barcelona Supercomputing Center (Spain), Institute of Mathematics Polish Academy of Sciences, Banach Center (Poland), Laboratory of Subatomic Physics & Cosmology, Grenoble (France), National Institute for Public Health and the Environment (RIVM) (Netherlands), Etablissement Français du Sang (France), German Research Center for Artificial Intelligence GmbH (DFKI) (Germany), Swiss Federal Institute of Technology in Lausanne (EPFL) (Switzerland)
Universities
The University of Tokyo, Shimane University, Osaka University, Nagoya University, Juntendo University, Ewha Womans University (Korea), University of Oxford (UK), New York University (USA), Virginia Polytechnic Institute and State University (USA), University of Technology Sydney (Australia), Strasbourg University (France), Northeastern University (USA), University of California Davis (USA), Technical University of Dresden (Germany), Chalmers University of Technology (Sweden), The University of Queensland (Australia), University of Copenhagen (Denmark), Humboldt University Berlin (Germany), Harvard Medical School Brigham and Women's Hospital (USA), University of Florida (USA), University of Wuppertal (Germany), University of Louisville (USA), The University of Edinburgh (UK), University of Oslo (Norway), LAL-IN2P3, Paris-Sud University (France)
Government Office and Others
MEXT, Ochanomizu University Senior High School, Pirapo Himawari-kai (PARAGUAY), Japan America Society of Southern California (USA)
Curriculum – Global Internship
Cooperation
We hold various events, including career and product development workshops, in cooperation with companies and research institutions.

Requests to Companies and Institutions
As mentioned above, we are promoting this program with the cooperation of companies and research institutions, collaborating with industry, academia, and the government. If your company or research institution is interested in working with our program, please contact us by email. We especially hope to promote exchanges with companies and research institutions in following cases:
– research internships
– hiring female PhDs
– interest in PBTS research projects
Contact: Ochanomizu University
     Leading Graduate School Promotion Center
     E-mail: