Our program, Fostering long-term creativity and innovation with science and technology disciplines based on Ochanomizu spirit "Migakazuba" in the next generation of global leaders, was adopted as a program for Leading Graduate Schools in the academic year 2013. Program for Leading Graduate Schools sponsored by MEXT (Ministry of Education, Culture, Sports, Science and Technology) fosters excellent students who are both highly creative and internationally attuned and who will play leading roles in the academic, industrial and governmental sectors across the globe.
This program is provided through the Minor Course of Science and Technology for Global Leaders, established through collaboration between the Division of Advanced Sciences and the Division of Life Sciences as a degree program.
Origin of Our Logo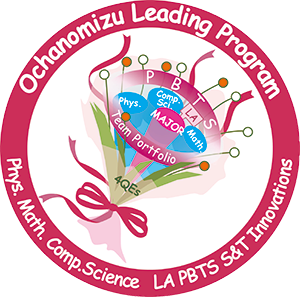 The progress of a student is portrayed as a fanning bouquet of flowers, presenting the educational offering of our program.
In the bouquet, the flowers offered through the Minor, which consists of reinforcement of fundamental knowledge (Physics, Mathematics, and Computer Science) and development of basic skills for creating innovation as a future global leader, surround a core flower of the expertise in the Major. We expect the students to make the flowers bloom in future by themselves after creating their own bouquets through our program.
Brochure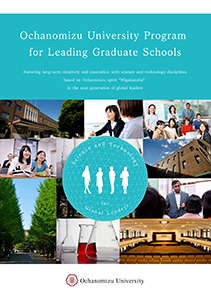 Ochanomizu University Program for Leading Graduate Schools