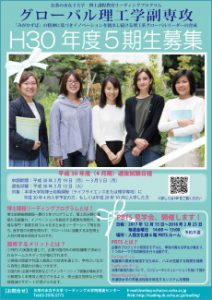 Prior to the selection examination in March for enrolling in the Minor Course of Science and Technology for Global Leaders, PBTS observation will be held.
Project Based Team Study (PBTS) modeled on applied research projects in industry is the core curriculum of our minor course, where students from various fields of specialization form teams and engage in research projects they create themselves. Students conduct all aspects of the research processes by themselves, including formulating research themes, and the management and development of their team's research. Each team will conduct weekly meetings with Study Commons teachers that they select. Each team will also appoint advisers from both inside and outside of school. Through PBTS activities, students learn how to manage a project in cross-functional environment. PBTS is conducted in English.

⇒ Admission Information
⇒ Curriculum:PBTS(Project Based Team Study)
Date & Time
14:00 – 15:00, Every Fridays, December 15, 2017 to February 23, 2018,
No reservation
Place/th>
Graduate School of Humanities & Sciences Building, 6F, PBTS Room
Target Audience
Individuals who are interested in our minor course and the program for Leading Graduate Schools.
Content
Observing PBTS activities by 4th class students in the Minor Course of Science and Technology for Global Leaders
Fly Trap Team

In order to control fly laying eggs in fruit and contribute to the cultivation of organic fruit in Japan, we explore new fly-repellent substances.

Traffic Jam Team

We aim at finding a new method of easing jam in the mixed traffic by computer simulations.

Water Recycling Team

We propose to develop a feasible system for removing surfactant in household waste water from washing machine.
Contact
Ochanomizu University
Leading Graduate School Promotion Center
tel:03-5978-5775
e-mail: