Class List of Spring Semester 2017
Special Lecture in Global Science & Technology Ⅳ "Global Studies: A Field Worker's View of Contemporary Asia, Africa, and Oceania" will begin on June 13. This is a lecture for students in "Minor Course of Science and Technology for Global Leaders". But all master's & doctoral students can take it if you have interest. Undergraduate students can also attend. The lecture will be conducted in English.
Lecture Theme & Objective
This class presents you basic concepts of Global Studies and its current topics concerns Asia, Africa and Oceania. Global Studies was developed in late 20th century as the interdisciplinary methodology to knowing about cultural, political, ecological and economic changes of globe/ local society under the "Globalization". I will give you a widely understanding of contemporary situations of "Globalization" through few case studies to extend your image of global society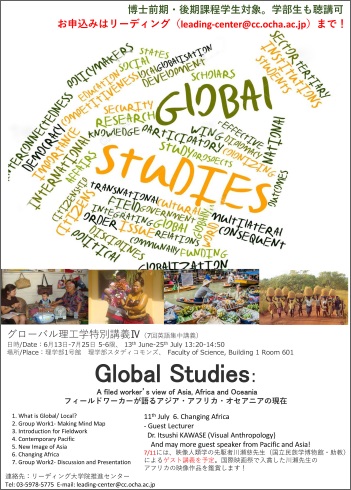 Message to Students
Please feel free to join if you are interested to knowing more about Asia, Africa and Oceanian culture and society. I am welcoming students from any field. I will give you an interactive lecture with various visual/ sound materials like films and photos during a class to enhance your understanding.
Lecture Outline
Subject
Special Lecture in Global Science & Technology Ⅳ [17S1034]
Number of Credits
1.0
Instructor
KONYA, Akari (Project Lecturer of Ochanomizu University)
Target Audience
Graduate Students
Undergraduate students can also attend.
Location
Science Building 1, 6F, Study Commons
Date & Time
Tuesday, Period 5-6 (13:20-14:50)
June 13, 20, 27
July 4, 11, 18, 25
Lecture Schedule
What is Global/ Local?
Group Work1- Making Mind Map
Introduction for Fieldwork
Contemporary Pacific- Poverty or Wealth?
New Image of Asia- Crossing Border and De-national
Changing Africa- Agriculture and Health
Group Work2- Discussion and Presentation
Registration
Registration Period: April 8 through June 12
If you register after April 21, please consult Academic Affairs Office in Student Affairs Building.
Contact
Ochanomizu University Leading Graduate School Promotion Center
Tel: 03-5978-5775
E-mail: