Class List of Spring Semester 2017
Special Lecture in Global Science & Technology Ⅲ "PEACE EDUCATION" will begin on April 11. This is a lecture for students in "Minor Course of Science and Technology for Global Leaders". But all master's & doctoral students can take it if you have interest. The lecture will be conducted in English.
Lecture Theme & Objective
Key themes:
Personal education for peace
Peace history – Cultural literacy
International education
Conflict transformation education
Objectives:
To understand peace and war
To foster a sense of global citizenship (learn about diversity and tolerance in cross-cultural settings)
To reevaluate personal attitudes
To encourage future reflections on peace education
To stimulate engagement and positive action
To enhance imagination, creativity and flexibility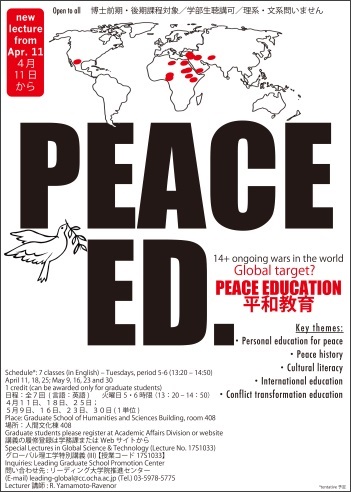 Message to Students
Welcome to PEACE ED.! This is an interdisciplinary and intercultural course aimed at introducing students into the field of peace education, emphasizing on the importance of understanding others in order to coexist harmoniously in the global society. Drawing on education, history, sociology, political science and economics, we will collectively engage in identifying best atitudes, behaviours and practices for peace . This course will be conducted in simple English, but you may have your say in any other language.
Lecture Outline
Subject
Special Lecture in Global Science & Technology Ⅲ [17S1033]
Number of Credits
1.0
Instructor
RAVENOR-YAMAMOTO, Roxanna (Project Lecturer of Ochanomizu University)
Target Audience
Graduate Students
Undergraduate students can also attend.
Location
Graduate School of Humanities & Sciences Building R408
Date & Time
Tuesday, Period 5-6 (13:20-14:50)
April 11, 18, 25
May 9, 16, 23, 30
Lecture Schedule
Course 1. Fundamentals of Peace
Introduction to the basics of Peace Ed., a tool for developing amicable relationships between people/groups and for avoiding conflict – Students will talk freely on related personal experiences/opinions

Course 2. Cross-Cultural Approaches to Peace Ed
Exploring different approaches to Peace education, concepts, ideas, symbols etc. – We will openly express our opinions on such cultural differences and implications

Course 3. Understanding War
Learning about the causes of war and the promotion of militarism – Analyze reasons behind wars

Course 4. Peaceful Methods
How to avoid conflict by peaceful means: diplomatic methods (negociation, mediation), – United Nations methods (institutional), Gandhi's methods (passive resistance, civil disobedience) etc. – Students will share experiences of how they dealt with conflicts to restore inner peace

Course 5. Building Resistance to Hate
Examining how we acquire hate (through early education, conformity, media) – Challenging our power to tolerate people/groups we dislike

Course 6. Conflict Solving Workshop
Students propose ways to solve various conflicts (either conflicts from history, or between friends or family members, or imaginary ones)

Course 7. Presentations, Q&A
Final presentations on any section of this syllabus, a peace story or peace action project
Registration
Registration Period: April 8 through 21
If you cannot register during above period, please submit a paper-based registration form at Academic Affairs Office in Student Affairs Building.
Contact
Ochanomizu University Leading Graduate School Promotion Center
Tel: 03-5978-5775
E-mail: