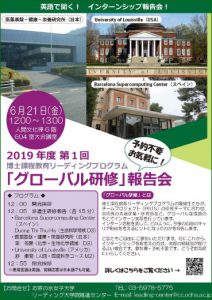 Global Internship is a program in curriculum for the minor course of Science and Technology for Global Leaders. In the program, students find their internship destinations by themselves considering their research themes in PBTS (Project Based Team Study) which is the core curriculum in the minor course. They are dispatched to corporations, research institutions, and universities home and abroad to experience long-term internship.
They will report how their experience impact their future career development.

Any students and university staff who are interested in the program are welcome to join.

Date & Time
Fri. June 21, 2019 12:00-13:00
Venue
Graduate School of Humanities & Sciences Building R604
Program
12:00 Opening Remarks
12:05 Internship Report by Students (15 minutes each)
Barcelona Supercomputing Center (Spain)
Duong Thi Thu Ha (Life Sciences, Biological Sciences D3)
National Institutes of Biomedical Innovation, Health and Nutrition (Japan)
Dongyang Li (Advanced Sciences, Chemistry and Biochemistry D3)
University of Louisville (USA)
Kanglan Shu (Life Sciences, Human Environmental Sciences M2)
12:55 Closing Remarks

Target Audience
Students and university staff who are interested in our Global Internship program
Contact
Ochanomizu University
Leading Graduate School Promotion Center
tel:03-5978-5775
e-mail: