Class List of Fall Semester 2019
"Essential Culture and Arts for Global Leaders" will begin on October 1. This class is designed as one of the Doctoral Program Liberal Arts for "Minor Course of Science and Technology for Global Leaders". The class is open to all master's & doctoral students who want to be active in the international community no matter which major/minor course they belong to. The lecture will be conducted in English.
Theme & Objective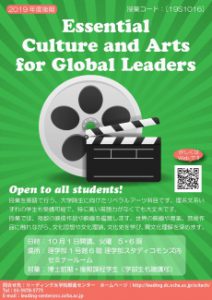 – To learn the basic cultural idea and theory
– To learn the cultural history since 19th century to present
– To deepen intercultural understanding
– To know more about world movies, music and arts
Message to Students
This liberal arts class welcomes all graduate students with neither limitation to a particular study field, nor high English level. Please join if you wish to learn more about culture and world movies.
– Several movies and visual media or audio will be provided at each class
– No report submission required, however you will be asked to write your impression of each class
– Several classes will have group discussion time
Lecture Outline
Subject
Essential Culture and Arts for Global Leaders [19S1016]
Number of Credits
2.0
Instructor
KONYA, Akari (Project Lecturer of Ochanomizu University)
Target Audience
Graduate Students
Undergraduate students can also attend.
Location
Science Building 1, 6F, Common Library(R601), Study Commons Seminar Room
Date & Time
Tuesday Period 5-6 (13:20-14:50)
Year 2019
October 1, 8, 15, 29
November 5, 12, 19, 26
December 3, 10, 17, 24
Year 2020
January 7, 14, 21
Lecture Plan
Introduction
Cultural anthropological view–Ethnocentrism to Cultural relativism
Study of Cultural anthropology–Fieldwork methodology
Family (1) Family connection
Family (2) Maternal Society
Ethnicity (1) Minority group
Ethnicity (2) Indigenous people
Gift and Exchange (1) The meaning of giving things to others
Gift and Exchange (2) Duty to return for gift
Religion(1) Prophecy, magic and indigenous believes
Religion(2) How to communicate with ancestors?
Cultural identity (1) Living in a hybrid society
Cultural identity (2) Rethinking nationalism
Group research
Final presentation
Out-of-class Learning
Reading list will be provided at class. Reading those would enhance your understanding.
Textbook/Reference
List of movies that I will introduce during a class:
Tokyo-Ga(1985)
SAMI BLOOD(2016) and others
Registration
Registration Period: Tue., October 1 through Mon., October 14
If you cannot register during above period, please contact Academic Affairs Office in Student Affairs Building.
*For undergraduate students, please contact Leading Graduate School Promotion Center.
Contact
Ochanomizu University Leading Graduate School Promotion Center
Tel: 03-5978-5775
E-mail: