Class List of Fall Semester 2018
Science Writing will begin on October 2, 2018.
This is a class from Common Subjects for Graduate Courses. Any students in Graduate Courses can take it. Undergraduate students can also attend.
In the Minor Course of Science and Technology for Global Leaders, this class is included in English Courses that you are required to earn 4 or more credits.
The lecture will be conducted in English.
Theme & Objective
This course focuses on writing science stories in English. As part of developing "Ocha science blog", students will write and publish science stories. They may cover a scientific breakthrough, explain natural phenomena scientifically or others. Their stories, however, must communicate science to a general reader in a clear and compelling prose.
Message to Students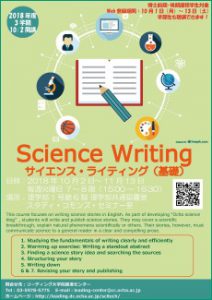 Important: The classroom is seminar room 601 located at Science Building 1.

Throughout the course and using textbooks, students will study useful writing points (writing clear sentences and coherent paragraphs, developing evidence, fundamental elements of style, etc.).

Graduate students from different faculties of Ocha-dai are welcome to join. You are encouraged to develop a collaborative and enjoyable course environment with other students. For smooth lectures, please bring your notebook PC with a connection to ocha network.
Lecture Outline
Subject
Science Writing [18S0117]
Number of Credits
1.0
Instructor
GHOURABI, Fadoua (Project Lecturer of Ochanomizu University)
Target Audience
Graduate Students
Undergraduate students can also attend.
Location
Science Building 1, 6F, Common Library(R601), Study Commons Seminar Room
Date & Time
[3rd Semester] Tuesday Period 7-8 (15:00-16:30)
October 2, 9, 16, 23, 30
November 6, 13
Lecture Plan
This class is conducted from 2018.10.02 to 2018.11.13 (7 lectures) as follows:

1. Studying the fundamentals of writing clearly and efficiently
2. Warming up exercise: Writing a standout abstract
3. Finding a science story idea and searching the sources
4. Structuring your story
5. Writing down
6 & 7. Revising your story and publishing
Out-of-class Learning
I encourage the student to write on a daily basis. Students usually plan, draft and begin their writing with the instructor during the class. They are expected to finish and submit their writing as homework. The time spent on writing depends on the topic and the student's writing skills.
Textbook/Reference
The Elements of Style, W. Strunk and E. B. White, 1999
On Writing Well, W. Zinsser, 2006
How to Write Better Essays, B. Greetham, 2008
Registration
Registration Period: Mon., October 1 through Sat., October 13
If you cannot register during above period, please contact Academic Affairs Office in Student Affairs Building.
*For undergraduate students, please contact Leading Graduate School Promotion Center.
Contact
Ochanomizu University Leading Graduate School Promotion Center
Tel: 03-5978-5775
E-mail: