Class List of Spring Semester 2018
Scientific Reading will begin on April 10.
This is a class from Common Subjects for Graduate Courses. Any students in Graduate Courses can take it. Undergraduate students can also attend.
In the Minor Course of Science and Technology for Global Leaders, this class is included in English Courses that you are required to earn 4 or more credits.
The class will be conducted in English.
Theme & Objective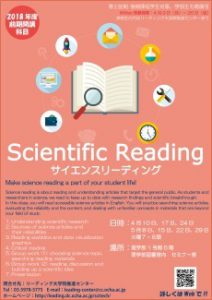 [Objective]
Make science reading in English a part of your student life.
[Theme]
Science reading is about reading and understanding articles that target the general public. As students and researchers in science, we read to keep up to date with research findings and scientific breakthrough.
In this intensive course, you will read accessible science articles in English. You will practice searching science articles, evaluating the reliability and the content, and dealing with unfamiliar concepts in materials that are beyond your field of study.
Message to Students
Science reading is not about reading specialized research papers such as peer-reviewed journal papers. Science reading is about reading and understanding articles that target the general public.

Graduate students from different faculties of Ocha-dai are welcome to join. You are encouraged to develop a collaborative and enjoyable course environment with other students. For smooth lectures, please bring your notebook PC with a connection to ocha network.
Lecture Outline
Subject
Scientific Reading [18S0116]
Number of Credit
1.0
Instructor
GHOURABI, Fadoua (Project Lecturer of Ochanomizu University)
Target Audience
Graduate Students
Undergraduate students can also attend.
Location
Science Building 1, 6F, Common Library(R601), Study Commons Seminar Room
Date & Time
[1st Semester]
Tuesday, Period 7-8 (15:00-16:30)
April 10, 17, 24
May 8, 15, 22, 29
Lecture Plan
Understanding scientific research
Sources of science articles and their reliabilities
Reading statistics and data visualization graphics
Critical reading
Group work (1): choosing science topic, searching reading materials
Group work (2): reading, discussion and building up a scientific idea
Presentation
Out-of-class Learning
As a weekly homework, students will read and summarize a science article on the topic of their choice. The time spent on the homework depends on the student.
Textbook/Reference
Science articles on various topics (Nature, Science, Scientific American, MIT review, ACM Communications, etc.)
Registration
Registration Period: Mon., April 9 through Sat., April 21
If you cannot register during above period, please contact Academic Affairs Office in Student Affairs Building.
Contact
Ochanomizu University Leading Graduate School Promotion Center
Tel: 03-5978-5775
E-mail: