Class List of Spring Semester 2018
"Essential Philosophy for Global Leaders" will begin on April 10. This class is designed as one of the Doctoral Program Liberal Arts for "Minor Course of Science and Technology for Global Leaders". The class is open to all master's & doctoral students who want to be active in the international community no matter which major/minor course they belong to. The lecture will be conducted in English.
Theme & Objective
Key themes:
– Human inquiry, scientific inquiry, and the PhD (Philosophiae Doctor)
– Self critique and social critique
– Existence vs. living
– Virtuality vs. reality
– Philosophic rigor and public role
Objectives:
– To recognize philosophy as scientifically meaningful and socially useful
– To counterbalance the old and new in our understanding of philosophy
– To reflect on the general and technical roles of philosophy
– To integrate philosophy in your discipline
– To educe personal philosophy and leadership
– (optional) To meet a philosopher
Message to Students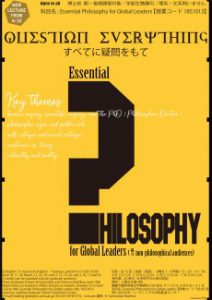 Welcome to Essential PHILOSOPHY!
This course is a millennias-of-philosophy thumbnail designed to equip students with skills that are essential to intellectual thought. Non-philosophical audiences, from fishermen to astrophysicists, struggle with cruxes that philosophers in a particular canonical field work on. Philosophic insights are inseparable from human existence and its applications are numerous, wheather in design, programming, communications, toxicology, policy etc.
Classes will consist of short and clear lectures combined with interactive activities and lively debates.
This course will be conducted in the simplest possible English.
Lecture Outline
Subject
Essential Philosophy for Global Leaders [18S1013]
Number of Credits
2.0
Instructor
RAVENOR-YAMAMOTO, Roxanna (Project Lecturer of Ochanomizu University)
Target Audience
Graduate Students
Undergraduate students can also attend.
Location
Graduate School of Humanities & Sciences Building R408
Date & Time
Tuesday, Period 5-6 (13:20-14:50)
April 10, 17, 24
May 8, 15, 22, 29
June 5, 12, 19, 26
July 3, 10, 17, 24
Lecture Plan
Course 1. A primer to Philosophy (Ph.)
– Identifying the object and essential function of Ph.
Course 2. Fundamentals of Ph.
– Core branches and corresponding fields, main principles and applications
Course 3. Overarching Philosophies
– Exploring the ideas of 10 major philosophers in a single lecture.
Course 4. From Ancient to Contemporary Thought
– Overview of the development of methaphysics, epistemology, ethics and politics
Course 5. Philosophical Methods (May 15th 2018, Tuesday, 13:20 – 14:50)
– Logic and argument
Course 6. Philosophical Tools and Techniques
– Tools: critical thinking, conceptual analysis, formal/informal logic
– Techniques: maieutics, dialectics, deconstruction
Course 7. Intellectual Conversation Practice
– Practice using philosophical methods, tools and techniques
Course 8. Inquiry into the value of existence
– Ethical theories vs. moral theories
Course 9. Reality and Virtual Reality
– Natural vs. synthetic environment, identity plurality
Course 10. Ph. in Contemporary Social Issues
– Integrating Ph. in other fields
– Emphasizing on philosophers' public role
Course 11. Debating the Philosophy Profession
– Sustainability, responsibility and code of ethics
Course 12. The Socratic Seminar
– Students form teams and take turns to lead the text-based discussions
Course 13. Meet a philosopher
– Invite one, visit one, be one
Course 14 and 15: Final Presentations and Q&A
– Oral presentations of your own philosophic work (written or not)
Out-of-class Learning
Students willing to fulfill the optional objective are encouraged to dedicate as little/much time they wish to search for a philosopher that they can meet before the end of the last course.
Textbook/Reference
Recommended readings:
Plato. (any edition). The Republic
Schopenhauer, A. 1966. The World as Will and Representation
Registration
Registration Period: Mon., April 9 through Sat., April 21
If you cannot register during above period, please contact Academic Affairs Office in Student Affairs Building.
Contact
Ochanomizu University Leading Graduate School Promotion Center
Tel: 03-5978-5775
E-mail: