Class List of Fall Semester 2017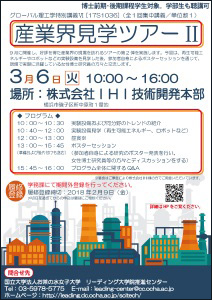 Special Lecture in Global Science & Technology Ⅵ "Industry Tour Ⅱ" will be offered on March 6, 2018.
This class is the second part of the "Industry Tour" which was held in September 2017 and gained popularity. This time, after the tour of laboratory equipment such as renewable energy and robot, students will make poster presentations and communicate with the female doctoral researchers working in industry.

This is a class for students in "Minor Course of Science and Technology for Global Leaders". But all master's & doctoral students can take it if you have interest. Undergraduate students can also attend. The class will be conducted in Japanese.
Lecture Theme & Objective
Through the discussion with people actually working on the site during the tour of corporate laboratories and factories, students will learn the significance of working in society. This time, we will visit IHI Corporation.
Message to Students
This course will give you a foothold to work in society and help you increase the motivation for your current research.
Lecture Outline
Subject
Special Lecture in Global Science & Technology Ⅵ [17S1036]
Number of Credits
1.0
Instructor
KONDO, Toshihiro (Professor of Ochanomizu University)
Target Audience
Graduate Students
Undergraduate students can also attend.
Location
Corporate Research & Development, IHI Corporation
Date & Time
Intensive Course in Fall Semester
Tuesday, March 6, 2018, 10:00 to 16:00
Lecture Schedule
9:55 Start at Main Gate of Yokohama Engineering Center, IHI Corporation
10:00-10:30 Introduction of laboratory equipment and trends
10:40-12:00 Laboratory tour (Renewable Energy, Robots etc.)
12:00-13:00 Lunch
13:00-15:45 Poster Session
15:45-16:00 Q&A

*Lunch will be provided.
Registration
Registration Period: through Friday, February 9, 2018
Please register through the procedure for "Registration outside the specified period" at Academic Affairs Office in Student Affairs Building.
If you cannot register during above period, please contact us individually.
Contact
Ochanomizu University Leading Graduate School Promotion Center
Tel: 03-5978-5775
E-mail: