Class List of Fall Semester 2017
"Essential History for Global Leaders" will be offered.
This lecture is one of the "Doctoral Program Liberal Arts" which is a coursework for fostering global female leaders. The lecture is conducted by Prof. Midori Nishiura, an expert in global communications.
Everyone can take this lecture, even if you are not in "Minor Course of Science and Technology for Global Leaders".
We recommend the lecture for all master's & doctoral students who want to be active in the international community. The lecture will be conducted in English.
Theme & Objective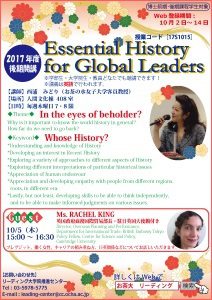 Theme:
"In the eyes of beholder?"
– Why is it important to know the world history in general?
– How far do we need to go back?
Keyword:
Whose History?
Goals:
*Understanding and knowledge of History
*Developing an interest in Recent History
*Exploring a variety of approaches to different aspects of History
*Exploring different interpretations of particular historical issues
*Appreciation of human endeavour
*Appreciation and developing empathy with people from different regions, roots, in different era.
*Lastly, but not least, developing skills to be able to think independently, and to be able to make informed judgments on various issues.
Lecture Outline
Subject
Essential History for Global Leaders [17S1015]
Number of Credits
2.0
Instructor
Midori Nishiura (Visiting Professor of Ochanomizu University)
Target Audience
Graduate Students
Undergraduate students can also attend.
Location
Graduate School of Humanities & Sciences Building R408
Date & Time
Thursday, Period 7-8 (15:00-16:30)

*Period 7-10 (15:00-18:10) for February 1 and 8


Year 2017
October 5, 12,

19,

26
November 2, 9, 16, 30
December

7,

14, 21
Year 2018
January 18,

25


February 1

(15:00-18:10)

, 8

(15:00-18:10)
Lecture Plan
1. What is History?
2. Going through ancient times globally
3. Placing spotlight on Recent History
4. Wars in various regions and countries, why?
5. Notable revolutions of the world
6. Communism Government
7. Imperialism, and New Imperialism
8. Democratic Government
9. Nationalism—-in different countries
10. Reflecting on Japanese History
11. Reflecting on recent Japan since Meiji era
12. Presentations
13. Presentations
14. What course do we need to take?
15. Importance of endeavouring to keep world peace


Guest 1 on October 5
Ms. RACHEL KING
Director, Overseas Planning and Performance,Department for International Trade, British Embassy Tokyo
Policy Fellow, Centre for Science and Policy,Cambridge University
Topics: Brexit, Working women, Career developmetn, Japan-United Kingdom relations, etc.

Guest 2 on October 26
Mr. Jim Hartman
Captain in the United States Navy with 22 years of experience leading diverse professionals and managing standards, processes, and compliance. Transformed procedures and processes as part of cross-functional management of operations, maintenance, intelligence, safety, and training. Harvard-educated specialist in international operations with a proven ability to lead multi-cultural organizations. Long-term, international experience working embedded in local German and Japanese teams.
Topics: The US-Japan alliance and Security

Guest 3 on December 21
Mr. Yasuhiko Sata
Chairman and Representative Director, Tokibo Co., Ltd.
Textbook/Reference
None. Some papers might be distributed accordingly.
(This is precisely the point I will be making. There is no "correct" version of history, at the same time, each and every interpretation has truth in every one of them thus "Text book" as such does not signify).
Message to Students
Seventy Years after the W.W. II, Japan's Contribution to the World Peace, and Considering the Future
My class is for the students to learn essential history, especially for those who aspire to be a global leader. Starting from scratch, like the importance of studying the historians before studying history, meaning that history can have as many variations/interpretations as the number of historians, thus the necessity to develop our own thoughts, forming opinions individually case by case. All this is to prepare the students for leadership positions in various fields. We discuss, learn debate skills, presentation know-hows, as well as negotiation techniques.
From '97 to '08 once every year, for eleven years, I had lectured at the Sciences Po (Paris Institute of Political Studies) in France. Institut d'Etudes Politiques de Paris, in French is a public research and higher education institution established in 1872, having educated France's political leaders and is considered one of the best schools for the social sciences, which include political science, history, sociology communication, etc.
My style of teaching has always been two-way communication, putting emphasis on roundtable, debate training, and discussion skills, etc. Unlike the old days, it was not just for French students exclusively, so top selected students of highest academic level with several language skills came from all over the world in the recent years. They were hungry for more in learning, and I was always bombarded with questions from these eager over acheivers.
Ochanomizu University has always aspired to provide students with education that enables them to show true leadership with a global perspective, hence my being appointed a visiting professor to provide students with advanced studies and leadership education preparing them for internationalization/globalization.
I do hope to see you all in my class!
Registration
Registration Period: October 2 through 14
If you cannot register during above period, please submit a paper-based registration form at Academic Affairs Office in Student Affairs Building.
Contact
Ochanomizu University Leading Graduate School Promotion Center
Tel: 03-5978-5775
E-mail: