Class List of Fall Semester 2016
"Essential Chemistry for Global Leaders Ⅱ" will begin on October 6. This is a lecture for students who are in "Minor Course of Science and Technology for Global Leaders". But all master's & doctoral students can take it if you have interest. The lecture will be conducted in English.
Lecture Theme & Objective
This course covers fundamental chemical science during lectures and attempts to link this knowledge to real world examples through the use of videos and reading assignments. The objective is to give students not only a working knowledge of chemistry, but also an understanding of why it is important in our everyday lives.
Message to Students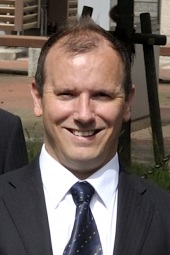 This course builds on the foundational chemistry introduced in the Essential Chemistry for Global Leaders I course. As well as adding to the fundamental chemistry introduced in course I, we will also look at some of the techniques used in a modern chemistry laboratory, such as mass spectroscopy, UV/Visible spectroscopy and NMR. Although most of the topics covered will be already very familiar to chemistry major students, these students may also benefit from this course if they are looking to improve their English language skills with respect to chemistry.
Lecture Outline
Subject
Essential Chemistry for Global Leaders Ⅱ [16S1009]
Instructor
Richards, Gary James (Project Associate Professor of Ochanomizu University)
Target Audience
Graduate Students
Location
Graduate School of Humanities & Sciences Building R102
Lecture Schedule
Date & Time
Theme of Lecture
Thu., Oct. 6, 10:40 – 12:10
Lecture topics will include :

Thc CFC story. How did chemistry help us solve the hole in the ozone layer problem ?
How does your flat screen TV work ? Discover the chemistry of liquid crystals !
Keeping charged. Find out about the chemistry behind your mobile phone battery !
Colour chemisty. What makes things coloured and how do we measure it ?
Building muscle ! What is protein and how is it made ?
How do chemists design new drugs to treat disease ?
…and how do we make that drug once we've designed it ?
Modern day chemical analytical techniques.

Thu., Oct.13, 10:40 – 12:10
Thu., Oct.20, 10:40 – 12:10
Thu., Oct.27, 10:40 – 12:10
Thu., Nov. 3, 10:40 – 12:10
Thu., Nov.10, 10:40 – 12:10
Thu., Nov.17, 10:40 – 12:10
Thu., Nov.24, 10:40 – 12:10
Thu., Dec. 1, 10:40 – 12:10
Thu., Dec. 8, 10:40 – 12:10
Thu., Dec.15, 10:40 – 12:10
Thu., Dec.22, 10:40 – 12:10
Thu., Jan. 5, 10:40 – 12:10
Thu., Jan.19, 10:40 – 12:10
Thu., Jan.26, 10:40 – 12:10
Registration
Registration Period: October 1 through 14
If you cannot register during above period, please submit a paper-based registration form at Academic Affairs Office in Student Affairs Building.
Contact
Ochanomizu University Leading Graduate School Promotion Center
Tel: 03-5978-5775 
E-mail: